Starting SPFC: Arting While Adult
I'm lying in bed in a beautiful, art-filled, Airbnb in Brooklyn that happens to be situated on my childhood street. I did not like the street when I was a child: I like it now. I arrived from Chicago seven days ago and have completed what I'm calling Week 0 of the School for Poetic Computation.
Leading Up
Last Fall, after wrapping up a year of learning how to blockchain, I was preparing to apply for jobs when Corey slacked me the sfpc link. To this day he doesn't recall how he came across it in the first place, but he did, and he thought something like, "this seems like Sarah". I read it, slacked back,
wanna cat-sit for 10 weeks next Spring?
and set about applying.
Applying
Applying meant putting focus and narrative around the creative work I've done over the years. Taking time to pull it together into a presentable set, as well as realizing how much it all means to me. This isn't a surprise, but it's a different strain of my life from "job-work", and required a context switch.
I had spent the year after working for the HFA Campaign taking it slowly. Focused on learning rather than "setting back out in the world". I wanted the year to be a year where I engaged with ideas that made my head spin (blockchain is a good choice for the criteria of 'make the head spin).
And so, being in open-air space, taking this leap into what I'm starting to think of as a 10-week Art School felt appropriate.
Arrival
This is me approaching the school on the first day.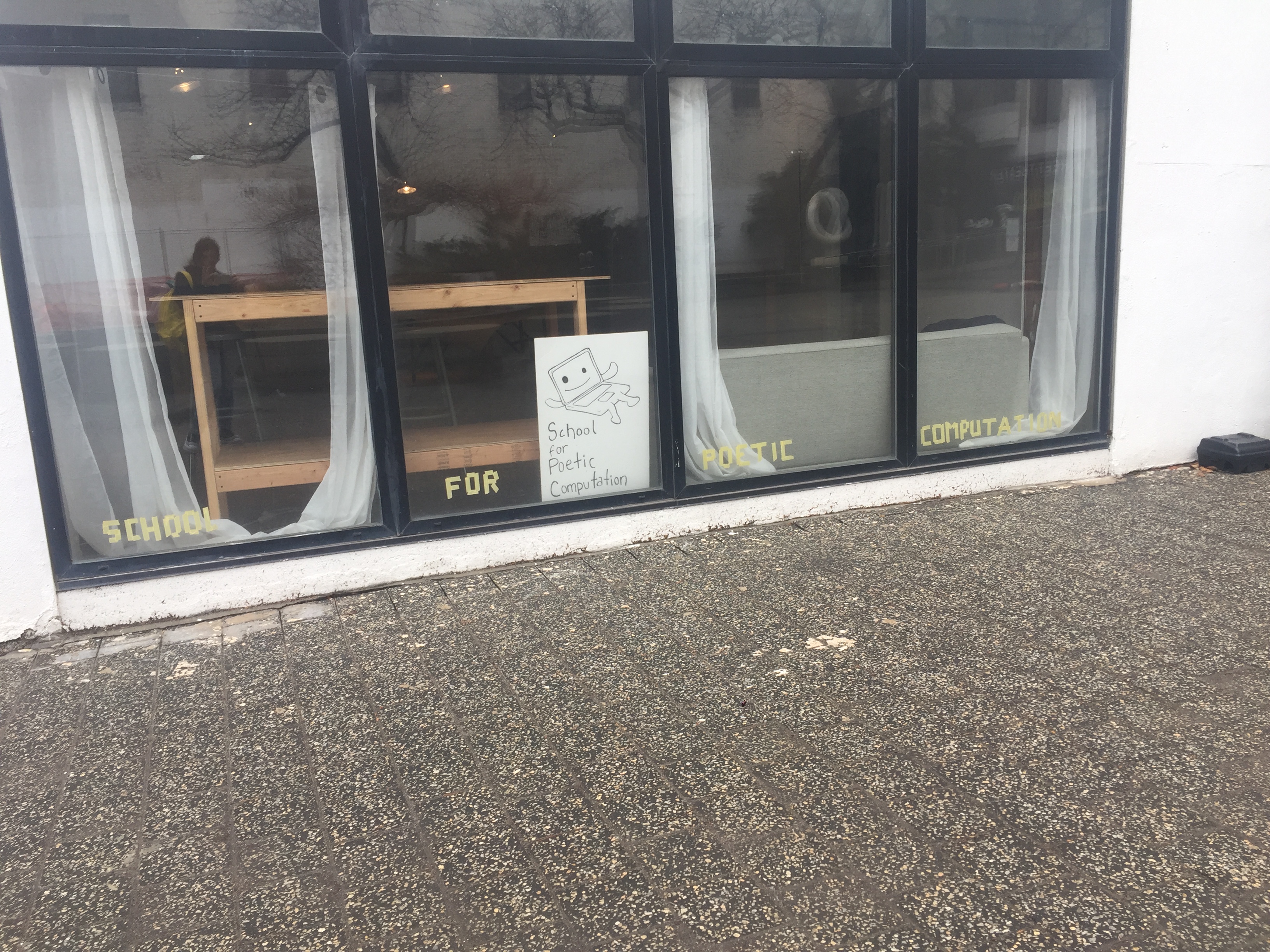 It's in the Westbeth Arts Center, in the tucked-in maze of the West Village. In fact, one of our early activities involved a neighborhood scavenger hunt complete with a hand-drawn map, so this is the neighborhood.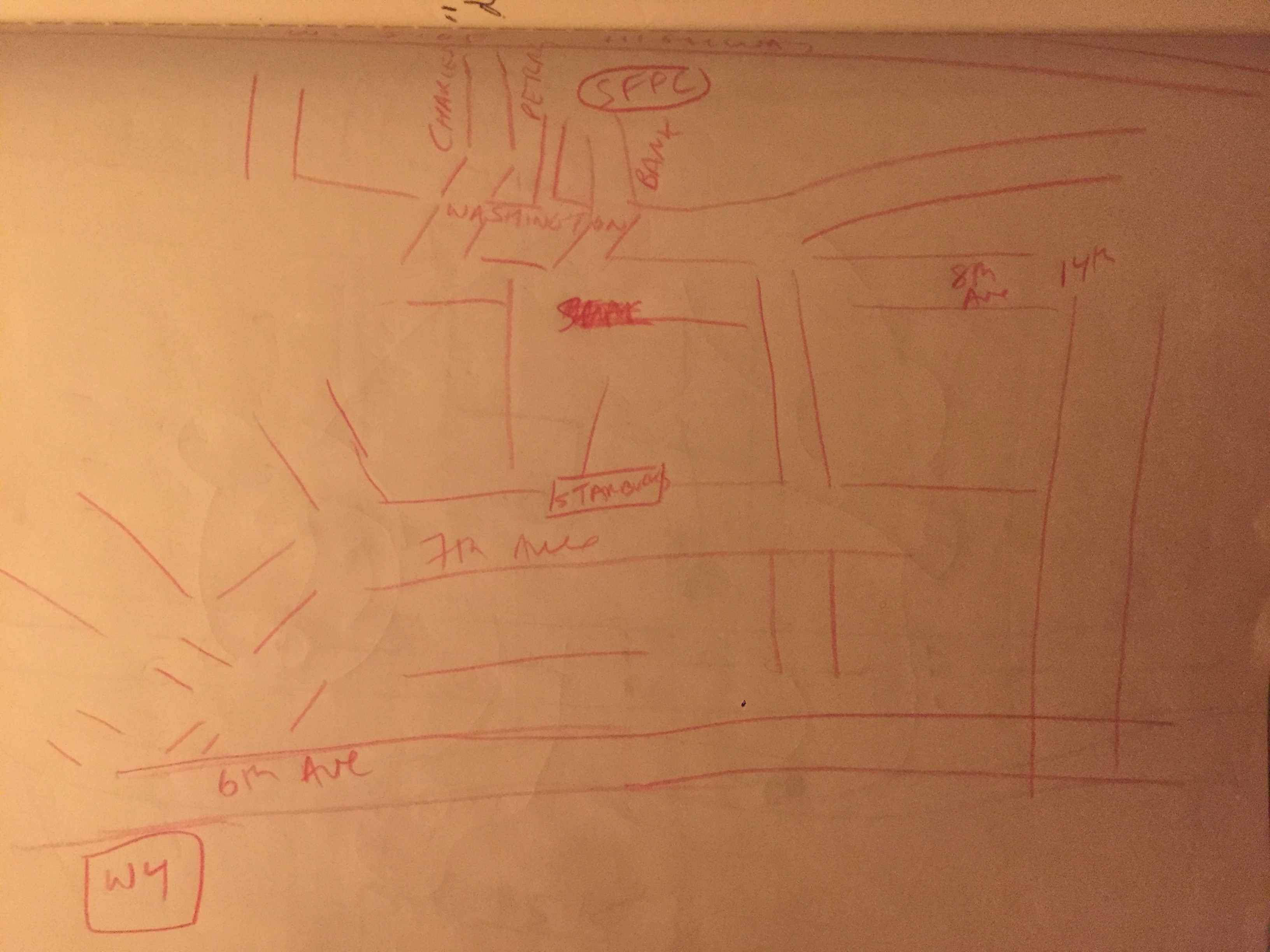 The West Village is funny. There's a store with such expensive things in it that it had two bodyguards and you're not allowed to take pictures. We found a dining room table there that cost $125k. And there are locals who have lived in the neighborhood for 40 years, who sell 3 packs of gum for a buck. My first West Village purchase was a mistake, but I didn't feel I could back out of it: A $13 chocolate bar.
Here is a blog from a fellow student about his mapping experience.
Student Body
We're a group of 17 students. Very international, not overwhelmingly white, more women than men (by a razor's edge). As a mono-linguist I believe I am in the minority.
We spent the week divided between meeting the teachers and doing activities.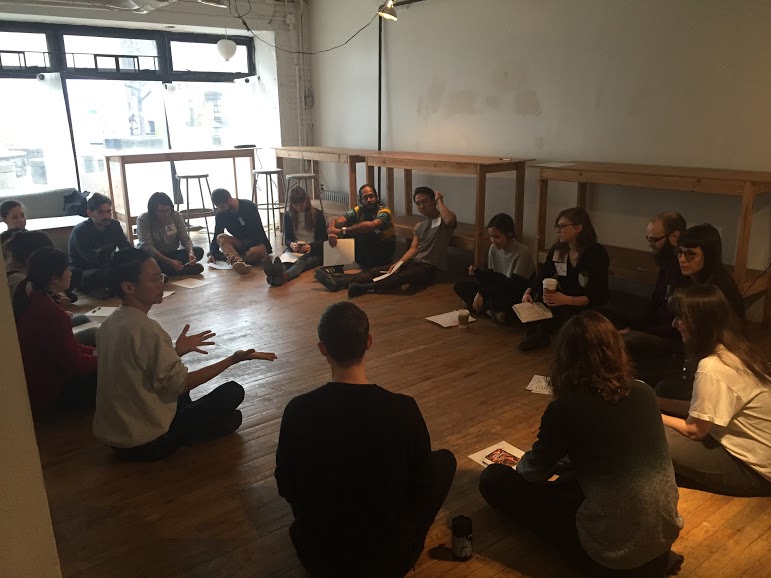 Exercises
It feels like I've stumbled into a magical Brooklyn filled with artists and creative technologists and I'm wide-eyed to be calling it home.
I've thought more about how fax machines work than ever before, as we spent hours on an activity trying to "fax" each other images, using entirely human protocols. This made me realize how much computers are good for, as well as how communication is more important than efficiency when us people are talking to one another. Here are some images of human-to-human fax protocol we developed: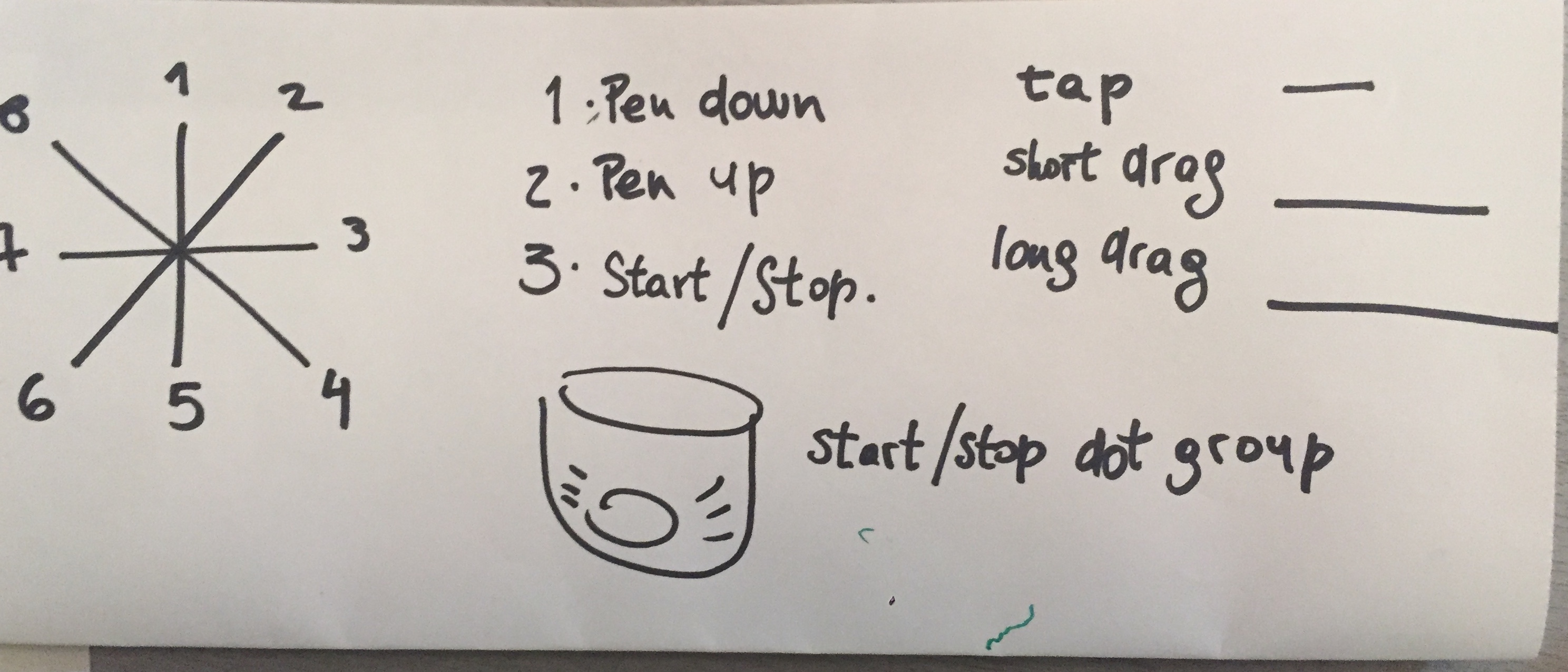 We got to make a game (or a tool, I'll say b/c that's what I built) for understanding decimal to binary conversion. Here's the first pass at my converter strip.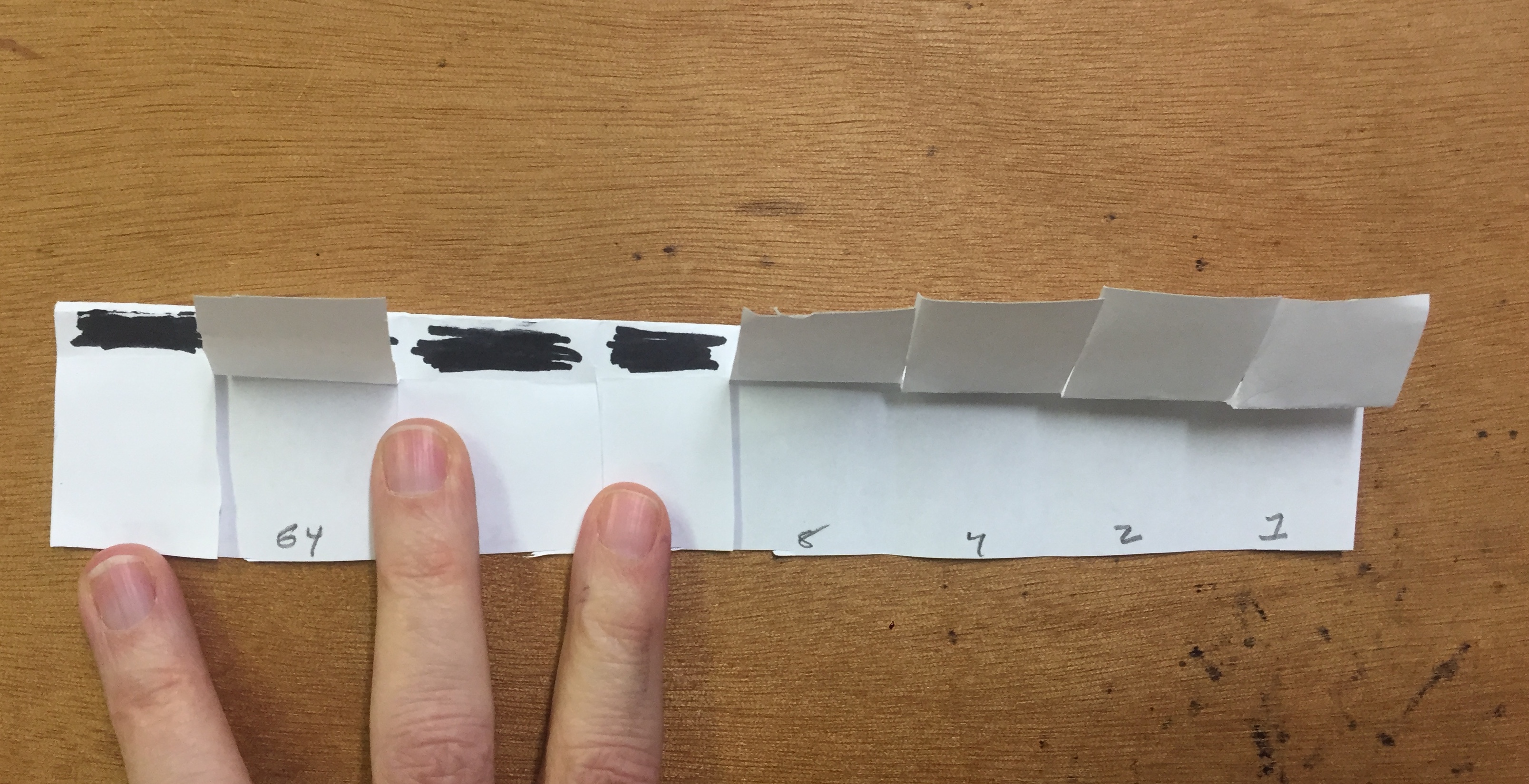 Teachers
The people they have brought in to teach us: I'll just say that as they presented themselves and their work I felt awed and honored to learn from them. This is me explaining to Kelli Anderson that my jaw was literally dropped-open during her presentation of her work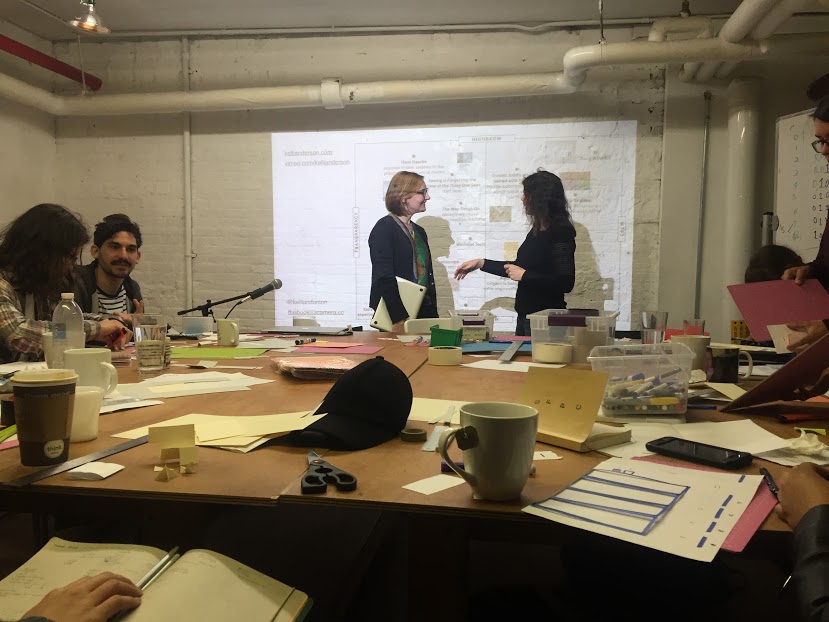 We'll be taking a critical theory class talk by Moreshin Allahyari, an Iranian artist and activist, and I feel like all I want to do is read.
Amit Pitaru makes mind-bendingly beautiful interactive musical compositions.
And that's just a few.
Bedtime
I've been journaling every day and moving forward it will be easier to have shorter, more focused posts. And I've been thinking about what it means to stop mid-career to effectively go to, I'll call it, Speed Dating Art School.
I'm a huge proponent of lifelong learning. Of being a student after being a teacher, or a teacher after being a student. Of deepening and exploring instead of retiring to the house-in-the-suburbs-of-the-mind. I'm looking forward to living this, and sharing the next ten weeks as they unfold.